History of Hadoti
The city of Jhalawar is situated in the south-eastern region of Rajasthan, a region widely known as Hadoti (Hadavati), the land of Hadas. The Hadas are a major branch of the great Chauhan clan of Agnikula Rajputs. In the 12th century A.D., Hada Rao Deva conquered this territory and founded Bundi state and Hadauti. Later in the early 17th century A. D. during the reign of Mughal emperor Jahangir, the Ruler of Bundi, Rao Ratan Singh gave the smaller principality of Kota to his son, Madho Singh, but when Sahajahan became the emperor, he issued a Farmaan in the name of Madho Singh, recognizing as him the King of Kota. The domain of the Hadas of Bundi and Kota extended from the hills of Bundi in the west to the Malwa plateau in the east, with a similar expense from north to south. The State of Jhalawar was founded on 8 April, 1838, out of the Kota territory. Jhalawar state got rise as a result of a treaty between English rulers, Kota state, and Malwa state.
District Profile :
The Princely State of Jhalawar was created in 1838 A. D. after being s eparated from Kota by the British. It got its name derived from Jhalas, the Jhala clan of Rajputs, also the rulers of Jhalawar.
Lying in the south-eastern region of Rajasthan at the edge of the Malwa plateau, Jhalawar has rocky, but water-laden verdant landscape, unlike much of the Rajasthan. With some exquisite pre-historic cave paintings, massive forts, thickly-wooded forests and exotic wildlife variety, Jhalawar boasts of rich historic as well as natural wealth. Jhalawar region has an exotic flavor with its diverse range of flora and fauna, with which it is richly-blessed. Red poppy fields add to the vibrant color, while the saras crane breeding grounds spotlight the rich avian life dominating Jhalawar territory.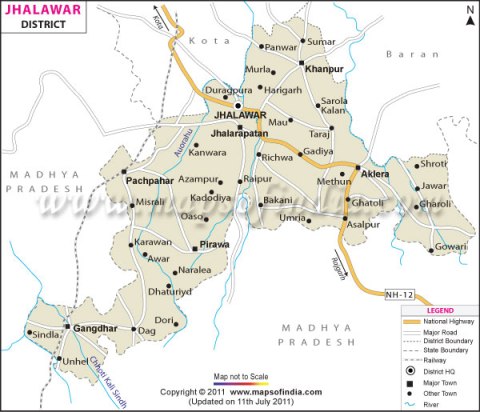 Total area of the district is 6928 km2. Around 21% of this area is forest area. Total length of tarred roads is around 1400 Km., out of which 94 kms. come in National Highway range, and 202 kms are in state highway range.
District has 7 Sub-divisions, 7 Tehsils, 4 Sub-Tehsils, and 6 Blocks. Total revenue villages in the district are 1618.

Demographics
As of 2001 India census,[2] Jhalawar had a population of 48054. Males constitute 53% of the population and females 47%. Jhalawar has an average literacy rate of 71%, higher than the national average of 59.5%: male literacy is 78%, and female literacy is 63%. In Jhalawar, 15% of the population is under 6 years of age.



Mini Secretariat, Jhalawar

Geography : Jhalawar is located at 24°36′N 76°09′E24.6°N 76.15°E.[1] It has an average elevation of 312 metres (1023 feet).

Education
Jhalawar has a well-developed educational structure, providing higher education, including an engineering college as well as a medical college.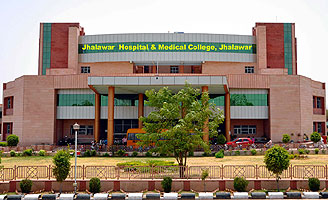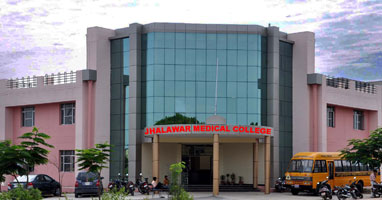 Jhalawar Hospital & Medical College

Places to see
| | | |
| --- | --- | --- |
| | | |
| Jhalawar fort (Garh Palace) | Government Museum | Bhawani Natyashala |
| | | |
| Bhawani Natyashala | Rein Basera | Jhalarapatan- Gagron fort |
| | | |
| Chandrabhaga temple | Bhimsagar Dam | Dalhanpur, Chhapi Dam |